Top software failures in recent history
The biggest software failures in recent history including ransomware attacks, IT outages and data leakages that have affected some of the biggest companies and millions of customers around the world
Technology, you can't live with it, you can't live without it. Unfortunately, millions of users around the world have come to realise the latter over recent years due to a series of spectacular, and thoroughly unwelcomed, failures.
Software failures have wreaked havoc at banks, airlines and the NHS, doing billions of pounds of damage and devastating disruption. 
We've taken a look back at what went wrong during some of worst software failures in the history of the UK.
Read next: The most significant UK data breaches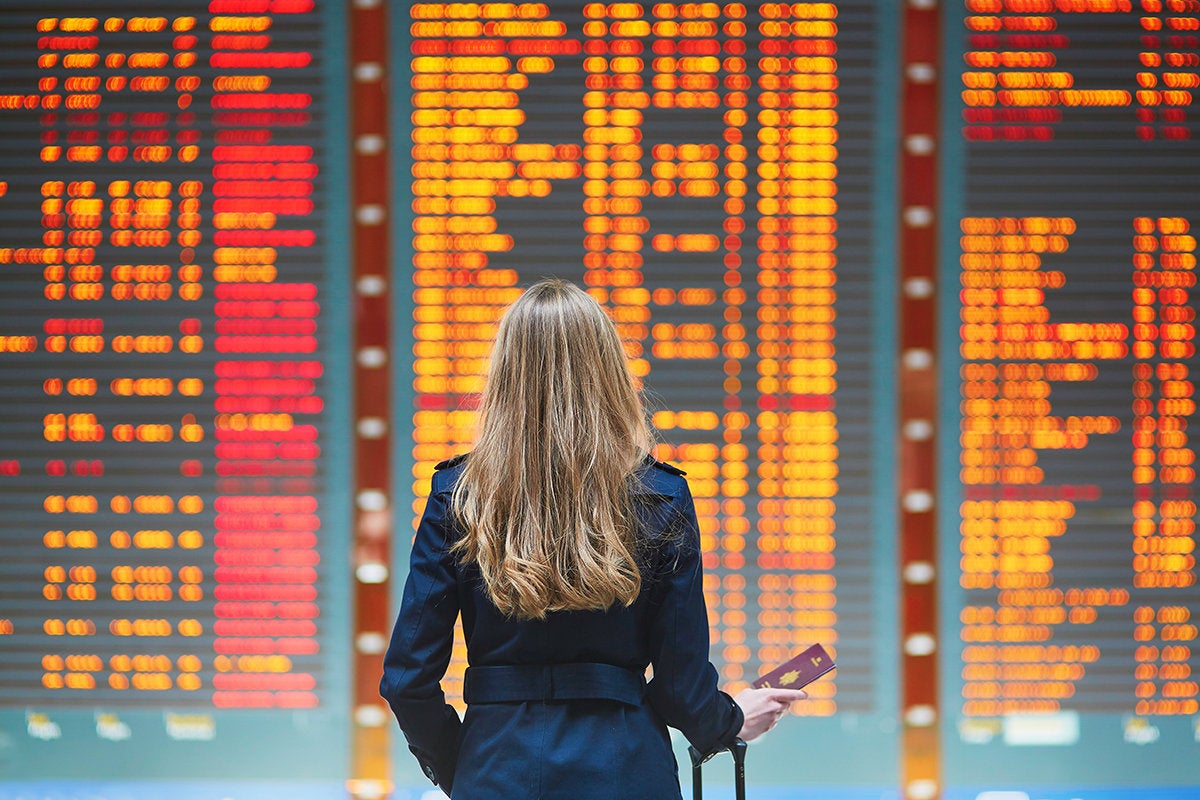 February 2020: Heathrow disruption
More than 100 flights to and from London's Heathrow airport were disrupted on Sunday 16 February, 2020, after it was hit by technical issues affecting departure boards and check-in systems, leaving passengers with little information about their flights and limiting the use of electronic tickets.
A spokesperson for Heathrow said that it could not share any more details as to which systems had been affected "due to the sensitive nature of those processes".
"Following yesterday's technical issue Heathrow's systems are stable and the airport is operating as normal. We apologise for the inconvenience this caused our passengers. Our teams continue to closely monitor our systems and will be on hand across our terminals to provide assistance to passengers," the spokesperson added by way of a statement.
August 2019: British Airways (again)
British Airways was struck by yet another IT glitch in August 2019, when system failures caused more than 100 flights to be cancelled and more than 200 others to be delayed.
The incident affected one system for online check-ins and another for flight departures, forcing the airline to revert to manual check-in procedures, leading to long queues at Heathrow, Gatwick and London City airports.
The airline said in a statement in the afternoon that the issue had been resolved but some knock-on disruption may continue as a result.
Read next: BA's May bank holiday IT outage: what went wrong?
This follows as many as six IT outages at BA since 2017. In May 2017 an IT failure affected over 1,000 flights, British Airways call centres, the website and mobile app. According to the GMB Union, the failure could have been avoided if the airline had not made hundreds of its IT staff redundant in 2016.
Facebook, Instagram and WhatsApp
Since Mark Zuckerberg brought WhatsApp and Instagram into his social media empire, users have increasingly had to deal with not one but three of their favourite platforms suffering from outages whenever Facebook experiences a technical issue.
In the first week of July 2019, users across the globe found themselves unable to load photos in the Facebook News Feed, view stories on Instagram, or send messages in WhatsApp. Although Facebook didn't detail the reason for the outage, it did release a statement claiming the issue had been accidentally triggered during "routine maintenance".
This isn't the first time this year the three platforms have experienced problems with downtime. In March, Facebook and Instagram were disrupted for around 14 hours whilst all three of Zuckerberg's digital children suffered further outages in April.
O2
On December 6th 2018, more than 30 million O2 users in the UK lost access to data services after a software issue left them unable to use 3G and 4G services.
Customers of O2 and the other companies using its network including Tesco Mobile, Sky Mobile, Lycamobile, O2 subsidiary Giffgaff were affected after a software glitch in equipment supplied by Ericsson brought the network to its knees.
The nationwide outage also affected Transport for London's live electronic timetables at bus stops.
TSB Bank
Millions of TSB customers were locked out of their accounts after an IT upgrade led to an online banking outage.
A planned system upgrade was expected to shut internet and mobile banking services down for one weekend in April 2018, but ended up causing months of disruption.
The problems arose from TSB's move to a new banking platform following its split from Lloyds Banking Group.
Immediately after the new system was switched on, many customers experienced problems logging in, while others were shown details from other people's accounts or inaccurate credits and debits on their own. Customers remained locked out of their accounts two weeks after the initial outage.
In July, TSB was still working its way through the backlog of complaints, when another outage struck, locking customers out of their online accounts once again.
TSB claimed that the problem was resolved later that day, but the debacle will further rupture the bank's relationship with parent company Sabadell. The Financial Times reports that the Spanish banking group is now considering selling TSB.
Read next: IBM 'had not seen evidence' of rigorous testing ahead of TSB migration disaster
Welsh NHS IT failure
In 2018, doctors and hospital staff of the Wales NHS experienced a widespread computer failure that led to them being unable to access patient files.
According to the National Cyber Security Centre, the failure was due to technical issues as opposed to a cyber attack yet it still caused wide disruption as GPs were unable to access blood and X-Ray results. It also caused a backlog as patients could not be contacted to cancel appointments, and notes could not be typed up and saved on NHS systems.
Meltdown & Spectre
At the start of 2018, Google researchers revealed CPU hardware vulnerabilities called Meltdown and Spectre had affected almost all computers on the market.
Meltdown primarily affects Intel processors, while Spectre affects Intel, AMD and ARM processors. Daniel Gruss, one of the researchers that discovered the flaw at Graz University of Technology described Meltdown as "one of the worst CPU bugs ever found".
Although these are both primarily hardware vulnerabilities, they communicate with the operating system to access locations in its memory space.
Read next: Meltdown and Spectre chip flaw timeline
Meltdown, Google explains, "breaks the most fundamental isolation between user applications and the operating system. This allows a program to access the memory, and also the secrets, of other programs and the operating system."
Spectre meanwhile "breaks the isolation between different applications" – "it allows an attacker to trick error-free programs, which follow best practices, into leaking their secrets.
WannaCry
In May 2017, a large ransomware attack called WannaCry (also known as WannaCrypt0r and WCry) hit NHS England and various organisations in the UK and around the world.
The attack was due to vulnerabilities found in Microsoft operating systems installed in millions of computers around the world.
See also: WannaCry ransomware timeline
According to Microsoft, the Windows versions that were vulnerable to the attack were versions which were no longer supported by Microsoft such as Windows 8 and Windows XP, which the NHS trusts and affected companies seemed to be running.
Cloudbleed
In February 2017, Cloudflare faced a major software bug that led to sensitive customer data like passwords, cookies and authentication tokens to get leaked from customer websites.
Cloudflare is known to provide performance and security services to millions of customer websites and although the bug was patched within hours, it is expected that the data leakage could have started as early as September 2016.
Bitcoin Unlimited
Bitcoin Unlimited suffered a serious memory leak which caused several nodes to fall from 800 to about 300. This is almost 70 percent of the nodes run by Bitcoin Unlimited at the time.
Although the memory leak was patched fairly quickly, this appeared to be the third memory leakage to crash the preferred method for Bitcoin Unlimited.
British Airways
For the sixth time in a year, British Airways faced a massive global IT failure which led to the airline cancelling all flights from Heathrow and Gatwick in May 2017.
The IT failure affected over 1,000 flights, British Airways call centres, the website and mobile app. According to the GMB Union, the failure could have been avoided if the airline had not made hundreds of its IT staff redundant in 2016.
Nest thermostat leaves users in the cold
In mid-January 2016 the Nest 'smart' thermostat (owned by Google) was hit with a software glitch which left users, literally, in the cold.
A software update went wrong, forcing the device's batteries to drain and leaving it unable to control temperature – so customers were unable to heat their homes or get hot water on one of the coldest weekends of the year so far.
Nest said the fault had been caused by a December 4.0 firmware update, plus issues such as old air filters or incompatible boilers. It has since rolled out a 4.0.1 software update which it says has solved the issue for 99.5 percent of affected customers.
HSBC suffers major outage
Less than a week into 2016, HSBC became the first bank to suffer a major IT outage. Millions of the bank's customers were unable to access online accounts. Services only returned to normal after a two-day outage.
The bank's chief operating officer Jack Hackett blamed a "complex technical issue" with its internal systems.
Glitch releases US prisoners early
In December 2015 a glitch caused more than 3,200 US prisoners to be released early. The software calculates a prisoner's sentence depending on good/bad behaviour and was introduced in 2002.
According to reports, the problem has been ongoing for 13 years until a new IT boss was appointed and informed the governor's office. It is estimated that on average prisoners were released 49 days early.
HSBC business banking glitch
HSBC again! In August 2015 a reported 275,000 individual payments failed to be processed by HSBC, which left many potentially without pay before the Bank Holiday weekend. The cause of this major failure was a problem with its electronic payment system for its business banking users which affected salary payments.
Bacs is the payment system that is used for payment processes across the UK is reported to have picked up on the issue but noted that it was an 'isolated issue'.
Government divorce software failure
The government's online calculator for calculating spouses' financial worth was hit with a Form E fault meaning that those calculations were wrong for thousands of couples that have been divorced in the past 20 months.
According to reports this error has been inflating spouses' finances since April 2014 but was only brought to like in December 2015.
According to the Office of National Statistics there were 114,720 divorces in England and Wales in 2013 so the damage that this fault has caused is yet to be fully revealed.
Bloomberg cancels debt issue
In April this 2015, Bloomberg's London office suffered a software glitch resulting in their trading terminals going down for two hours.
This came at a very bad time as the UK's Debt Management Office (DMO) was set to auction a series of short-term Treasury bills (these bills are short-term Government borrowing).
In a statement Bloomberg said: "Service has been fully restored. We experienced a combination of hardware and software failures in the network, which caused an excessive volume of network traffic."
600,000 RBS payments go missing
In June 2015 about 600,000 payments failed to enter the accounts of RBS overnight – including wages and benefit payments. Many took several days to come through. The bank's chief admin officer said a "technology fault meant we could not ingest a file from a third-party provider" but did not provide much further detail on the root cause. In 2012 6.5 million RBS customers experienced an outage due to batch scheduling software, a glitch for which the bank was subsequently fined £56 million.
Nissan's airbag glitch
Over the past two years Nissan has been recalling airbags adding up to over 1 million cars. The software failure was due to a glitch in the airbag's sensory detectors.
In short, the affected cars could not detect whether an adult was sat in the car's passenger seat and as a result the airbags would not inflate. There has been a reported two accidents due to this software failure.
Starbuck's software bug
Back in April 2015, Starbucks witnessed a register malfunction which according to Starbucks, was caused by an 'internal failure' during its routine refresh. This resulted in 60 percent of stores in the US and Canada being forced to close. The affected stores were unable to process payment transactions and at one point many stores were giving the coffee away for free.
F-35 detects targets incorrectly
In March 2015 F-35 Joint Strike Fighter aircrafts fell victim to a serious glitch, a software bug meant that the aircraft could not detect targets correctly. The sensors on the plane couldn't tell the difference between a singular or multiple threats.
UK government delays new online farming payments system
In March 2015 the government was forced to delay launch of its £154 million rural payments system, a new online service for farmers to use to apply for Common Agricultural Policy payments from the EU. The service was originally supposed to be up and running by May 2015 but integration problems between the portal and the rules engine software proved 'too difficult to overcome' by then, ComputerworldUK understands. It is now expected to be available for the 2016 deadline instead.
Co-op Food charges customers twice
A 'one-off technical glitch' with processing software caused thousands of The Co-operative Food customers to be charged twice while paying for goods in July 2015. The Co-op apologised and promised to reimburse people within 24 hours.
Amazon 1p price glitch
Just two weeks before Christmas, some of Amazon's third-party retailers in the UK saw their wares reduced to just 1p each thanks to an hour-long pricing software glitch. Eagle-eyed shoppers had a field day, but scores of small businesses were left having to absorb heavy losses. It is still unclear what compensation, if any, they will receive from Amazon.
UK airspace closed
Over 150 flights from London airports were cancelled and hundreds more delayed on 12 December last year. A server in Swanwick running the UK's National Air Traffic Services (NATS) flight data processing system went down as a result of a software flaw. NATS has experienced a number of technical failures since the Swanwick base opened. Worryingly, software experts have warned its systems could collapse again.
Toyota Prius recalled over software glitch
In February 2014 Toyota had to recall almost 2 million Prius hybrid vehicles in order to fix a software glitch with its engine control unit. The glitch could cause transistors to overheat, sending the car into fail-safe mode and potentially causing the hybrid system to shut down while driving. It's a recurring issue: the same software problems caused Toyota to recall a further 625,000 vehicles in July 2015.
Heartbleed security flaw uncovered
In April 2014, a member of Google's security team found a flaw in the encryption library Open SSL, which hosts 66 percent of all websites.  Although it was quickly patched by most IT firms, the sheer scale of the services affected means it is likely that there are still servers out that which remain vulnerable to attack.
US National Grid Gas Company blew $1 billion
The US National Grid Gas Company moved to a new ERP system from SAP in 2012 in an effort to streamline back-office processes. However the software was incorrectly implemented, resulting in problems like inaccurate wage payments and unpaid supplier bills. The cost of implementing and fixing the software means it has cost $945 million (£607 million), up from an original estimate of $383 million (£248 million), according to external auditors.
Apple forced to pull iOS 8 update
Despite being the world's most profitable company, Apple had a major embarrassment in September 2014 when it had to pull the update for its new iOS 8 operating system a mere hour after release. Users complained of lost phone signal, frozen updates and unlocking problems. A study by Bloomberg claimed the latest operating system crashes 67 percent more often than its predecessor.
Emergency numbers go offline for six hours
Emergency services were unavailable for six hours across seven US states last April. The incident affected 81 call centres, meaning about 6,000 people made 911 calls that were unable to connect in Washington and parts of six other states. A study from Federal Communications Commission found an entirely preventable software error was responsible for causing the service to drop.
iCloud hacked
Compromising photos of A-list stars like Jennifer Lawrence and Kirsten Dunst appeared on 4chan and other internet forums in September 2014. Hackers had gained access to the stars' iCloud accounts using phishing schemes and brute-force guessing. Apple CEO Tim Cook promised to beef up iCloud's security features to restore user confidence after the hack.
Air India forced to divert Boeing 787 flight
Air India had to divert one of its Boeing 787 Dreamliners last February after pilots noticed a glitch in the plane software during a flight from Melbourne to New Delhi. Engineers flew from Hong Kong to fix the glitch, which was described as 'not major' by the airline. The episode was just the latest in a series of glitches to affect the 787 since its launch in 2011, with the worldwide fleet grounded in 2013 due to overheating batteries in some planes.
Delivery of F-35B stealth fighters delayed
Glitches in software development and testing have led delivery of Lockheed Martin's F-35B stealth fighters to the US Marine Corps to be delayed by over a year, and caused costs to overrun. Software problems included an error in the fighter's computer system which associated the wrong part numbers with aircraft components and recommended grounding planes even after repairs had been made.
Copyright © 2020 IDG Communications, Inc.
Next Up: Check out these related slideshows